---
This page is dedicated to listing new features available on Treatstock. Be sure to check back in on a regular basis to stay up to date with the continuous improvements we make to the platform. If you have any questions or suggestions on how we can further improve our platform, send us a message and let us know. We'd be happy to hear from you!
---
2nd March, 2022
We've changed the model size recommendation in the Instant Order. Since the average build volume for 3D printers increased in modern machines, we moved it up a little. And for your personal widget, the warning will show a customer the maximum size of your machines.
We've fixed some bugs and issues in Quotes, Certifications, and overall site performance.
In compliance with CNIL's General Data Protection Regulation, we have ensured that Google Analytics isn't used for our users from France, Austria, and the Netherlands.
2nd February, 2022
Minor changes to Product Store and Model Store widgets. Now all your published models can be displayed.
We are currently testing out new order processing system that will allow a smoother workflow. If you'll notice any issues with payment process, please, let us know immediately.
18th January, 2022
We have added a currency switch to PayPal payouts. When you are proceeding to withdraw awards from Earnings page, choose between USD and EUR balance for your payout.
AMEX cards are back! We now start supporting American Express credit and debit cards for your orders.
24th December, 2021
We have added a dropdown menu to filter out the vendors who accept payment in Euro to the Instant order. It is active on Step 2 of the widget and allows switching between USD and EUR.
Treatstock got a new Christmas look for the Holiday Season.
21st December, 2021
Euro is finally available for vendors on Treatstock. Go to your business settings and select Euro in the drop-down menu to switch to this currency. More information on all ins and outs of currency preference will be available in our help center.
2nd December, 2021
Now all users can participate in the affiliate program and earn rewards. Simply share the affiliate link and earn a 50% recurring commission from each completed order made by users through your link. To create your affiliate link, visit this page.
In Products, you can now narrow down the list to 3D printables only by selecting "3D Models".
Catalog pages in 3D Printers Guide got a new look with the star rating and properties better organized.
7th October, 2021
We gave a product catalog main page a little extra touch. Now, there will be featured categories and products, as well as the newest special offers or promotions at the top of the page.
For orders sent through Treatstock Delivery, customers now can click on the tracking number in the order to view detailed shipping progress.
New time estimate for your orders, both for customers and vendors. It is simple and clear and available on an order card.
We removed pickup as a delivery option due to its low popularity.
For questions to the support team about your order, you can now add the order or invoice number for quick reference in the contact us form.
Quote statuses now should be more transparent and easier to work with.
26th August, 2021
Now it is easy to get an instant quote for 3D Printing, Laser Cutting and CNC machining all in one place! The new Treatstock widget accepts all file formats used on the platform to provide you with a quick quote based on your manufacturing needs.
We have made some changes to the top navigation to make it easier to access all services.
Treatstock launched a loyalty program for returning customers. Now it is possible to earn Bonuses from each purchase on the site to get a discount for your next project.
21st July, 2021
Treatstock rating widget for your personal site or blog is now a part of company business tools. The widget is available in 2 modes: default one will show your star rating and the number of reviews; the wide mode would show the recent reviews left for your service along with the stars.
We made re-ordering easier with the "Repeat Order" option. It is available for instant orders, and once applied, your model(s) with all the same specifications and settings would be added to the widget. All you will need to do is just to select a vendor and proceed to order confirmation.
Turnaround time is added to instant order. Currently, it is estimated based on the timeline of similar orders. Turnaround time is visible on the second step of the order process. You can learn more about it here.
The messaging section was improved with new filters that allow quickly jumping to unread or messages without a response.
On a company's public page you now have a single calculation widget for all types of manufacturing services you've set up: 3D printing, cutting and CNC machining.
25th June, 2021
On the checkout page, you now see the number and the full list of the files ordered for 3D printing.
22nd June, 2021
Company public pages got a new look.
Partial refunds were enabled for laser cutting orders.
4th June, 2021
Printer certifications are now available in a large format that allows you to check them in full or print them out.
14th April, 2021
Average response time is now included on a company's page, so customers with time-sensitive orders can narrow down their search for a manufacturing partner.
We have made changes to dialogs between users.
1st April, 2021
For an instant order, you can now duplicate files. Multiplied files will have the same quantity and material settings, which you can later change.
Details of the certification are now visible on a company's page to help customers.
24th March, 2021
We have added Alipay as a new payment method.
Quotes/Invoices tab in the Sales section was slightly changed for a more convenient workflow. Now rejected and canceled quotes will be shown in the History of cancellation.
15th February, 2021
Starting from $400 you can now add funds to the Treatstock balance through bank transfer to use for purchases and payments on the platform
2nd February, 2021
The new certification system is finally out. Now, every machine type has a suitable update category. Getting verified allows you to get more orders and have a higher priority on the companies' list. More details on the new system are available in the help center.
21st December, 2020
We added express shipping for vendors from the USA with Treatstock delivery type. Express delivery can be selected on Step 3 (Delivery Options) of instant order. It doesn't require any additional setup from print services.
15th December, 2020
Companies can now switch off the auto-reply message for accepted orders. To do so, visit the notifications tab.
30th November, 2020
Businesses from Albania, Bosnia and Herzegovina, Qatar, Serbia, United Arab Emirates can now offer their services on the platform.
24th November, 2020
Based on your product title, we now suggest categories to help you find a suitable one quicker.
Categories and tags for Products and 3D models were combined into one Shop.
10th November, 2020
Customer's address is now detected and shown for quote orders.
We added an option to delete your business without removing the whole account. If you decide to delete your company, all your machines will be deleted and you will not be able to offer services. To delete your business, you need to have no open disputes or ongoing orders.
12th October, 2020
We have added Instant orders for laser cutting with automatic price calculation. This feature allows to set cutting and engraving lines, choose materials, and sort through all services to place a quick order. Currently, it works with CDR, DXF, EPS, PDF, or SVG files.
More service categories added. If you provide casting, sheet metal fabrication, mold making, or metal stamping, you can now offer these services in the separate categories.
23rd September, 2020
We added a new 2D cutting service calculator, which allows getting an instant estimate for laser cutting, CNC routing, and many other technologies. You can add your cutter in the Services section by choosing 2D cutting and engraving.
In the Earnings page, you can now view and download invoices for orders and Treatstock service fees separately.
24th June, 2020
Payouts through a direct bank transfer are available for requests from $500 or higher. Additionally, there is an option to receive your money in a currency of choice.
In the Sales list, vendors can now see the dates when an order was created or canceled.
15th June, 2020
We improved the CNC setup and price calculation processes. The cost and material setup interface are now much easier to work with. We also added an option to test out your rates via a sample model to get more accurate results.
12th May, 2020
We added Instant Payments to simplify the payment process for additional charges or tips. This feature allows transferring payments directly to a company's Treatstock balance immediately. Before using this option, please, check out related articles in the Help Center.
Delivery deadlines were slightly changed due to the current situation with delivery companies.
For print services, the cost of a shipping label in Free delivery orders will now be displayed.
31st March, 2020
Vendors can now withdraw the rewards via bank transfer starting from $2000. This can be done on the Earnings page.
30th December, 2019
For "Step 2" in the instant order, we have added an infill increase option right under the color selection. Be aware that you can't set the infill percentage lower than the default minimum.
30th October, 2019
Get browser notifications for new orders. To enable those, visit New Orders tab in your sales.
For international instant orders, we now show closer print services on top of the list.
25th September, 2019
Quoting is now available in the form of a widget that you can embed to your website.
23th July, 2019
Manufacturers can now create a Quote for the customer. The feature allows sending offers to customers who already have Treatstock account directly from message dialog. If a customer isn't registered on the site, you can also use their email to create a pre-order.
25th March, 2019
Non-business accounts can now use Hide Profile function to remove their public page from the search. All order reviews left by a user would still be visible on the company's page though.

4th February, 2019
Manufacturers can now cancel additional service offer. Please, notice: the option would be available only for services that weren't paid by the customer yet.
Option to add a description or a comment to the Quote. The customer would be able to see it on Quote's page as well: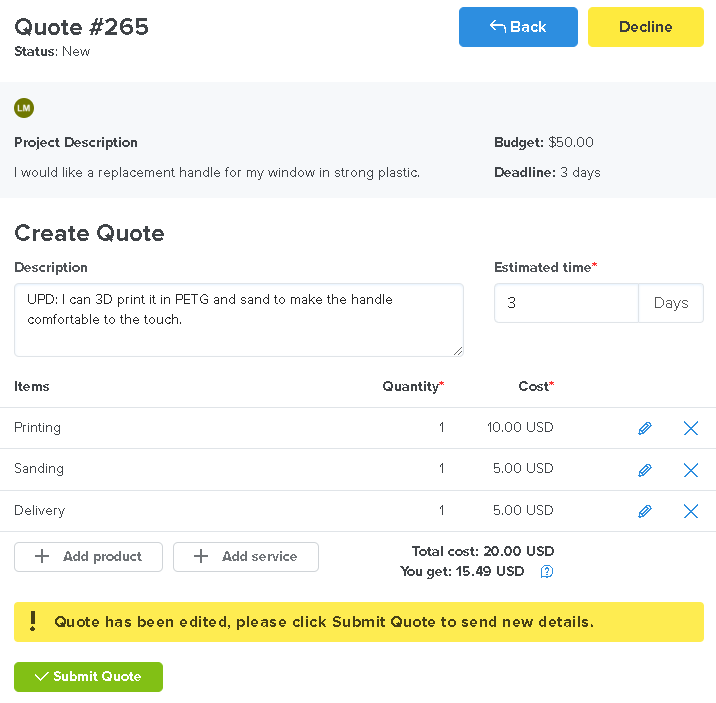 23th January, 2019
Selecting a specific material from a group is finally available for Order Widget and in Thingiverse app!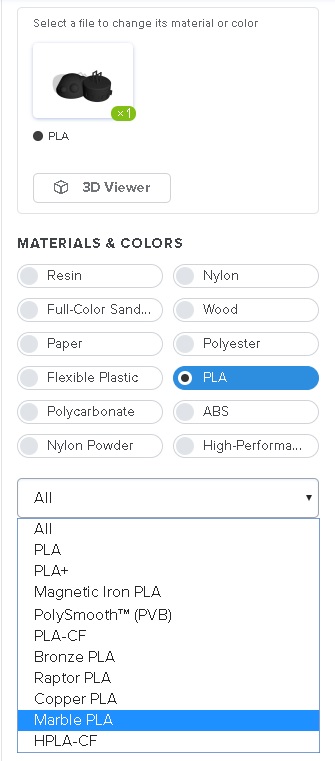 Additional Services are available for payment with your Treatstock balance, so you can use your Earnings to order products and services.
(for vendors) Uploaded photos for Orders in production can now be maximized by a click as well as rotated. Thus, you can go back and double check the results before submitting them for moderation.

12th December, 2018
For countries except for United Kingdom, USA, Germany we now break the customer's address apart to help to prepare the order for the delivery. We hope it'll help vendors to dispatch international packages easier even when the address is written in a different language.
Searching for an order using the Quote number it used to have is now available.
Changes in the payment system on the website. From this time on you can see that each order has its unique invoice number.
16th November, 2018
Customers now can sort print services by Best Rating in the order widget to find a vendor for their order.
We have added an option to always receive e-mail notifications, even if Treatstock is opened in your browser. Visit the Notification tab in your Profile to switch it on.

08th November, 2018
Manufacturers can now review their 3D printers and share valuable insights with the community in our 3D Printers Guide. To review your 3D printer(s), visit your Services page and click on "Review your 3D printer"

We have added a language switcher option for the Treatstock Widget and the My Services Widget. Furthermore, we now support the Italian and Spanish languages in the widgets. If you would like to contribute and help us to translate the widgets or website into another language, or correct translations for currently supported languages, please reach out to us.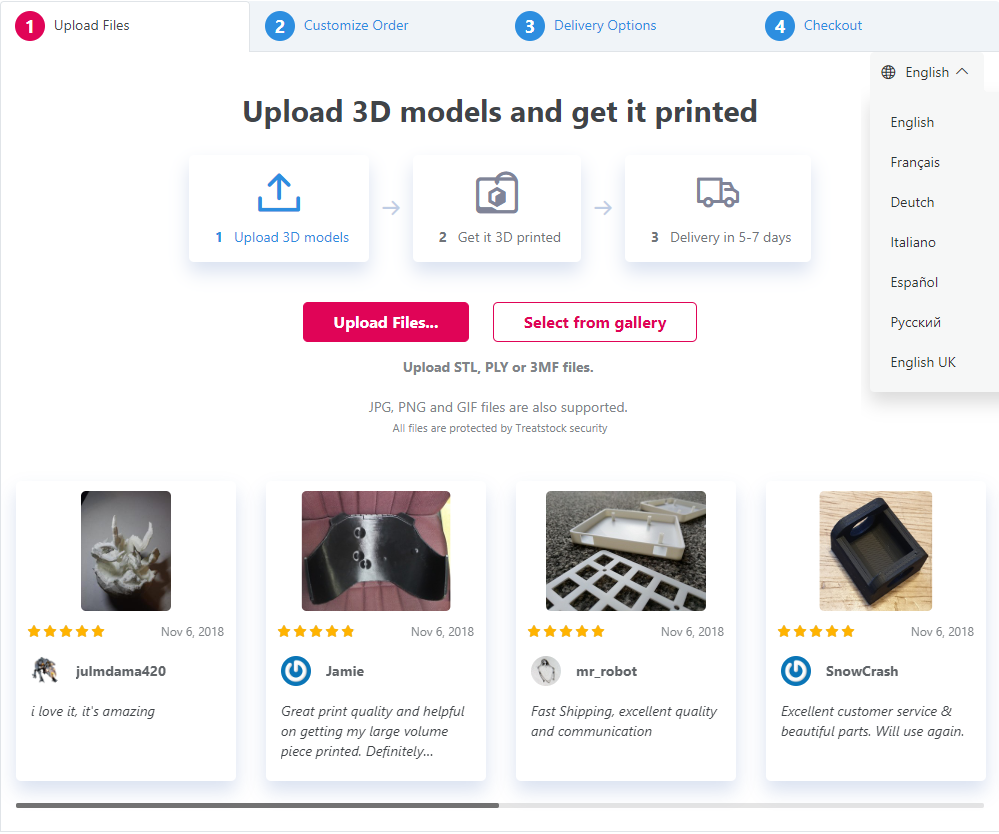 ---
29th October, 2018
Customer reviews are now visible on the bottom of the Treatstock Widget and the My Services Widget. If a manufacturer does not wish to have customer reviews visible in their My Services widget, they can go to My Business Tools and switch the Show Reviews toggle off

All users can now see a detailed version of reviews including the star ratings given for speed, quality, and communication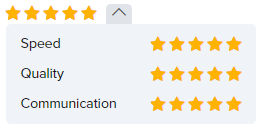 All CNC manufacturing services are now listed under Services > CNC Manufacturing
Activate all/Deactivate all option now available for 3D printers in manufacturer's Services page

Shipping address now visible on the order card (without going into order details) for manufacturers when dispatching orders
Users can now search RFQs with quote number or supplier name, and filter by status
---
27th September, 2018
International delivery toggle now available for customers in the order widget
Manufacturers can now reply to customer's reviews
Notifications now appear for new Sales Reviews for manufacturers
---
21st August, 2018
Product's widget now available for suppliers
Published products are now purchasable from the customer review